Dramatis Personae
Boneshard, Noscan Berserker (custom class)
Regis de Pubiens, Bretonnian Spy
Jarlyle the Bard, Empire Entertainer/Wizard
This session, the intrigues continued at a large tournament held by the Duke to seek a peace accord between Lords Ermengard and Agravaine. The session started with the guys spending some XP, and arguing with me about how much gold they had acquired so far, and then Jarlyle haggled with Lord Chrodegar for some more gold for Boneshard training his son. Expecting nothing less from money-grubbing, dishonorable knaves, Lord Chrodegar paid the additional money, asking that Jarlyle also provide his entertainments and songs in exchange.
Hilariously (to us), I asked if the players wanted to call their troupe something in particular. Jarlyle and the bozos or whatever. Boneshard's player suggested the Bonebuddies, which is probably going to stick over
Boneshard and Regis recovered from their torn muscle wounds (26/27 days), and Boneshard trained Chilfroy in the art of sword and shield in the castle training yard. Lord Chrodegar sent some men to recover Greenhill, now that the leader was gone. They returned, having rescued a captured knight errant named Sir Simon. Simon told Chrodegar that his peasant captors spoke of how Esmeralda had gotten away. The adventurers quickly apologized for not telling Lord Chrodegar, but noted they had been truthful: they killed the fuck out of Jacques.
A herald arrived from the capital, Castle Aquitaine itself, to announce the Duke was holding a Ducal Tournament, with all the entertainments and intrigues that provides. Their old patron, Lady Griselda, would surely be there.
The adventurers headed to the tournament with Lord Chrodegar, and entered three contests. Regis, in his persona of a visiting Estalian Nobleman was invited to gamble with a select set of nobles. He won considerable sums, beating Sir Gauthier (heraldry: golden fleur de lis on white). Gauthier attempted to cheat Regis of the winnings, but Regis convinced assembled Bretonnians of his honor and Gauthier was undone. Regis won a suit of fine platemail, a golden ring, and 125 gold. Later that night, he was robbed by a catburgler of a pouch of gold. Suspecting Gauthier's involvement, Regis found the robber in a wine tent and convinced him to steal the money back from Gauthier. The robber was found hanged the next morning, so no luck. Regis, or at least his Estalian persona, has made an enemy in Gauthier.
After spending a few nights paying for the best prostitutes available to a Norscan. Using the platemail Regis had won in gambling as his entrance fee, Boneshard was able to enter the melee duel tournament, and unexpectedly triumphed. He defeated Ermengard's champion, Sir Lothaire, through some high rolls. This carried a purse of 10 GC, and great acclaim.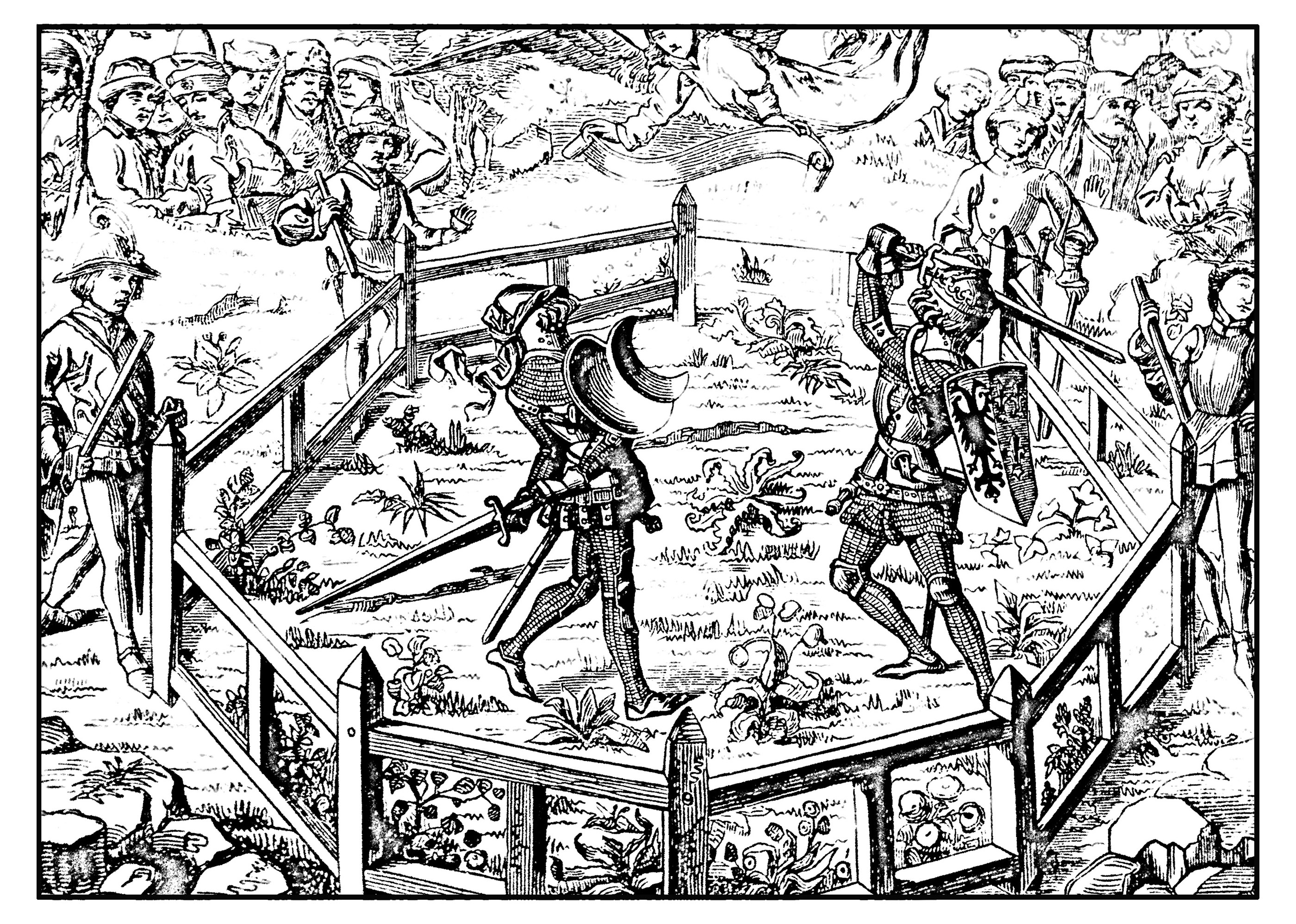 Boneshard fights Sir Lothaire
Finally, Jarlyle crushed the Bardic contest, winning a golden cherub and, again, much acclaim.
In broader news at the tournament, the Duke (of course) was unable to negotiate a peace between Ermengard and Agravaine. Additionally, the adventurers saw Lady Griselda at the ducal tent announce that her lands are beset by beastmen, and she called upon knights to undertake a Quest for the Lady to slay the intruders and end the menance. The greatest hero of Aquitaine, after the Duke himself, Sir Roland of the Braid swore in the Lady's name to quest against the foul beastmen, and a few other youths took up the call. But most knights, including Chrodegar, continued to take sides in the war between Ermengard and Agravaine.
In the closing days, after the Great Joust, Lady Griselda came to the adventurers, requesting that now that they are in Chrodegar's good graces to kill Chilfroy for her. Boneshard attempted to bone her, and she resisted his advances, but implied she would sleep with him if he slays Chilfroy for her. The session ended with the adventurers considering this offer.
[Note: I'd like to update this post with a relationship map with some heraldry, maybe I'll get to that, maybe I won't.]
Rewards
100 XP each, 115 XP for Boneshard
A butt ton of gold: +129 GC to Regis, +10 GC to Boneshard, a golden cherub to Jarlyle, plus a fine suit of platemail.